User report by Dr. David Stachowicz
In many clinical situations, the dental profession can be stressful and demanding for the dentist as well as for the patient. On the one hand, a user's key requirement is, to have an open and unrestricted access to the treatment area. On the other hand, patients are seeking for enhanced treatment comfort, without being faced with muscle fatigue and anxiety. Seeming to be quite contradictory, these demands commonly cannot be met in an easy way. Very often, there are disrupting elements in the way and the appropriate retraction of all soft tissues can turn out to be genuinely challenging for all parties involved.
Luckily, we have been using a smart and innovative auxiliary in our practice for around 1.5 years now, which supports us significantly in performing reliable, smooth, and efficient procedures. The Umbrella™ tongue, lip, and cheek retractor (Ultradent Products) is the ideal addition for every caring practice. It offers much more than a simple cheek retractor, as it helps the patient to comfortably keep their mouth open and tongue in place.
When I used this little tool for the first time, it was a really striking experience. I noticed immediately that it is very easy to handle and quick to place. As the Umbrella retractor is spring-loaded, it comfortably fits to the individual anatomy of the mouth and gently keeps it propped open, creating a super accessible working area. The tongue easily rests behind the clever tongue guard and the saliva is pooled away from the dentition and the treatment area, improving the access for high volume suction. The Umbrella retractor gives me the confidence of having enough space available to do my work properly and successfully. What I really like, is that the Umbrella retractor reliably stays in place, maintaining the desired retraction effect during the entire procedure.
The Umbrella retractor does facilitate the treatments for the user. It also makes the life of my patients easier. As many dental professionals might know, getting a positive patient feedback on your tools and procedures is quite rare. However, I receive a lot of encouraging response for the Umbrella retractor, as they create such a pleasant treatment situation to my patients. The majority of them finds the Umbrella retractor stunningly comfortable. It spreads the area between lips, cheeks and tongue in a convenient way and makes them relax their jaws, so that no bite block is needed. My patients love the Umbrella retractor as it acts nicely, without stretching, dragging, or pulling their tongues, lips or cheeks – and ultimately, the entire treatment flows easier and smoother. Also, the gagging reflex is gone with most patients, which is a big plus for my work. I have not encountered more than a hand full of people, feeling slightly uncomfortable regarding the positioning of their tongue – which might solely be a question of getting used to it. Thanks to its elaborate ergonomic features, the Umbrella retractor fits to the individual anatomy of the mouth and therefore is suitable for almost everybody.
Being able to relax and to find themselves in a comfortable, positive treatment experience, the bond, confidence, and chemistry between my patients, myself and my practice team has truly improved.
My aim is to provide the same level of care and premium dentistry to all patients. Thus, we have used the Umbrella retractor for the majority of cases in our practice. It is impressively versatile and suitable for a variety of indications, e. g. prosthodontics, surgical procedures, orthodontic bonding, restorations, anterior fillings, sealants, tooth whitening, polishing, preventive care sessions and check-up visits – to name only a few of them. According to our experience, the Umbrella retractor does not only ensure a reliable and continuous retraction of the soft tissues. It also keeps the tongue out of the way, opens the working field – and last but not least frees my assistants' hands, so that they can fully concentrate on supporting myself. My team members equally appreciate the Umbrella retractor's benefits: As it is extremely easy to handle and to place, they like using it themselves when performing their prophylaxis treatments.
In certain cases, we still use rubber dam, e. g., in the posterior regions of the mouth. However, the Umbrella retractor provides the opportunity to clearly see the contour of the gingiva and the working field in many anterior regions. Especially during surgical procedures in the anterior region, the Umbrella retractor allows an impeccable retraction of the lips. Moreover, the risk of creating sores on soft tissue is much less than with other retracting devices.
Likewise, I would highly recommend the Umbrella retractor to any users, students or even beginners, who have only worked with other comparable auxiliaries by now. They will be surprised by the ease of use and the improved treatment results they will achieve. They can easily free themselves from a lot of stress caused by exhausting conventional retraction procedures. Finally, their quality of work will be considerably enhanced – as easy as 1, 2, 3.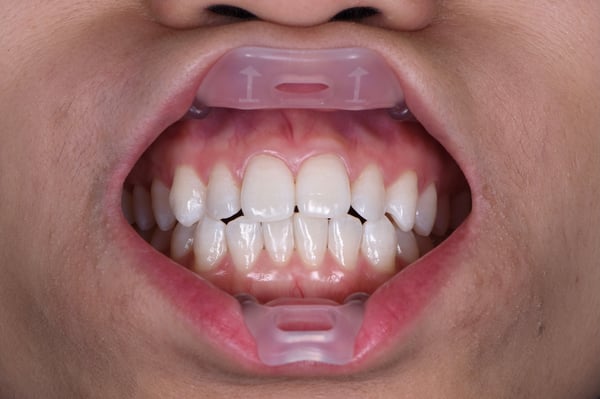 Fig. 1: Umbrella tongue, lip, and cheek retractor in situ.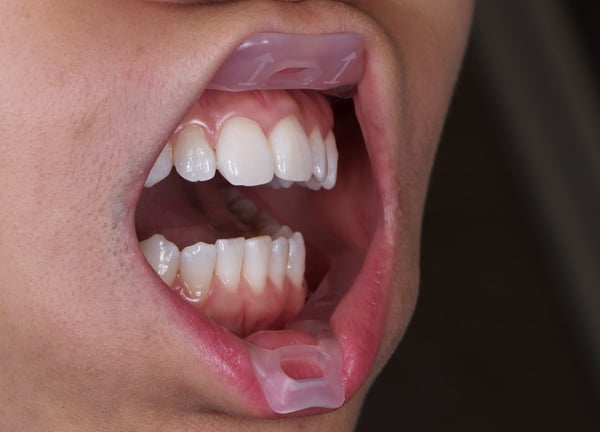 Fig. 2: Opening up the mouth in a comfortable way.
As the Umbrella retractor gives me and my practice team the freedom to work quicker and to provide high- quality dentistry, it simply gives us a good feeling. By speeding up our procedures, we save a lot of time and consequently are able to work efficiently and economically.
Talking about efficient procedures: Especially in times of the COVID 19-pandemic everybody should do the best to minimize the spread and to keep themselves, their teams and their patients safe. The Umbrella retractor is a hygienic single-use product, which does not have to be cleaned and processed in a complicated way. That is very useful these days!
Summing up, I can honestly claim that the Umbrella retractor combines a range of innovative benefits in one smart tool, which is highly appreciated by everybody: Patients, users, and the entire dental team.
Learn more about Umbrella™ at www.ultradent.com/eu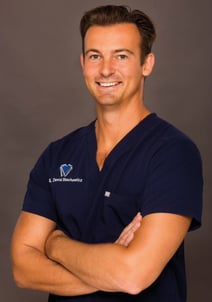 Multi-disciplinary dentist since 2006, mostly with own private practice in Sweden, Kristianstad

Teacher at the University of Kristianstad for dental hygienists

Educator at RIPEGLOBAL (Fellowship in Restorative Dentistry)

Licensed in Sweden, as well as in Australia, moving down under as soon as COVID19 restrictions for entry to Australia ease.
Dr. David Stachowicz
Sweden