When it comes to restorative dentistry, Class II posterior restorations comprise about 50% of all cases performed by general practitioners. When it comes to these often tricky cases, Ultradent Products' new and improved Omni-MatrixTM disposable retainer and matrix is the perfect tool to help clinicians create beautiful posterior Class II restorations.

Ultradent Products' newly redesigned Omni-Matrix disposable retainer and matrix.
The Omni-Matrix retainer band's design still features everything clinicians loved about it before, including the winged and wingless designs, disposability, wide and narrow bands, but now there's more: a new body design! The pivoting head and new body design allows the Omni-Matrix retainer to customize to a wide variety of preparations in any quadrant of the mouth, without sacrificing quality or patient comfort. It also allows for superior clinician visibility.
The Omni-Matrix retainer can also be used for single or simultaneous restorations and is available in either winged or wingless designs. As before, dentists have the option of using mylar or ultra-thin burnishable stainless steel bands in universal-width or narrow-width. The retainers are also conveniently preloaded and disposable, eliminating the need to sterilize or disinfect them before or after use—saving valuable time and money. Plus, the Omni-Matrix retainer is easy to remove without disturbing restorative material.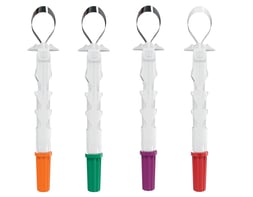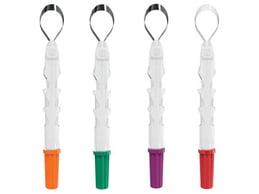 The Omni-Matrix retainer comes in winged or wingless designs.
For the minimally invasive dentist, the Omni-Matrix retainer comes in particularly handy when the pathology is removed, but the contacts are unbroken. About using the Omni-Matrix retainer in these scenarios, Dr. Todd Snyder says, "It's in these cases that I just need something quick that can adapt to the shape of the tooth and re-create the tooth morphology. The preparation design having not broken the contact allows me the convenience of using a retainer matrix to create the correct shape, as well as a good contact."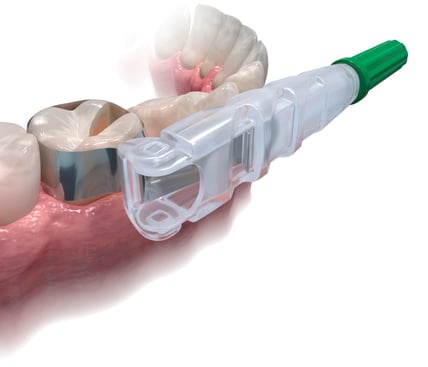 The Omni-Matrix retainer and matrix is a convenient option for restoring the anatomy of the tooth efficiently and easily in Class II posterior restorations.
Because a top-of-the-line disposable retainer matrix is an essential component of every clinician's Class II toolkit, Ultradent Products' redesigned Omni-Matrix retainer is getting rave reviews on its new body style. Dr. George Freedman said, "It's fast, easy, convenient, and disposable! What else could you ask for?" Dr. Todd Snyder said, "The Omni-Matrix retainer allows me to do quality and efficient work. In business and life in general, anything that provides quality and efficiency is, quite frankly, priceless."
The Omni-Matrix disposable retainer and matrix features everything you loved and more:
Unmatched body design is ideal for both single and simultaneous restorations
Innovative shape allows superior procedural visibility and patient comfort
Ultra-thin burnishable stainless steel adapts to preparations
Unique winged and wingless styles meet individual case needs
Disposable design saves you time and money
To learn more or to purchase the new and improved Omni-Matrix disposable retainer and matrix system, click here!