Choosing the right adhesive is one of the most important and impactful product decisions a clinician can make. It affects the quality and longevity of their restorations, the time it will take to complete them, and the money the clinician will have to spend to ensure that their adhesive works on all substrates. It also affects whether or not the patient is satisfied and comfortable, relative to the amount of sensitivity that the bonding agent or procedure may cause. Here are a few aspects dentists should pay extra attention to when choosing the right bonding product for their office.
Chemistry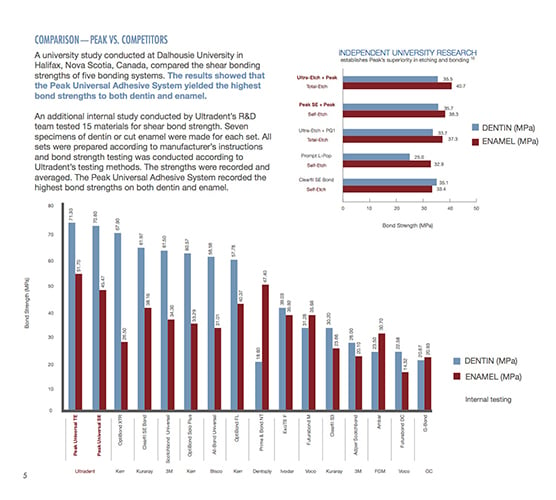 When it comes to the success of a dental bonding material, the chemistry behind the product makes a big difference. Most bonding materials on the dental market today contain a monomer called MDP (10-Methacryloyloxydecyl dihydrogen phosphate), which was created by Japanese dental manufacturer Kuraray Co. in 1981. So when Ultradent Products set out to create PeakTM Universal Bond adhesive, its Research and Development team put extensive time and research into creating its own, custom-synthesized monomer, which is now a key component in its formulation. This custom-synthesized phosphate monomer helps create long-lasting restorations with bond strengths far greater than the competition. Along with a blend of others, this unique monomer, exclusive to Peak Universal Bond adhesive, exhibits a higher ability to lessen tubule gaps and travel down and reach every microscopic area that has been etched on the tooth. A university study conducted at Dalhousie University in Halifax, Nova Scotia, Canada, compared the shear bonding strengths of five bonding systems. The results showed that the Peak Universal Adhesive system yielded the highest bond strengths to both dentin and enamel.1 A similar study conducted by Clinician's Report yielded similar results.2 Thanks to its chemistry, Peak Universal Bond adhesive creates a consistently stronger bond.
Viscosity
Viscosity levels in a dental bonding agent make a huge difference to the clinician. If it's too runny, it can create control issues, with the bonding agent often running all over tooth. If it's too viscous, it can prove too difficult to thin and reach the microscopic areas of the tooth where it needs to be to create a proper bond. With 7.5% filler, Peak Universal Bond adhesive's viscosity has been tuned for minimal film thickness (two microns). Peak Universal Bond adhesive is designed to stay where the clinician puts it, but it is also a breeze to air thin and scrub deep down into the tooth's tubules. It also cures more readily and easily than the competition, even in places where a clinician might find it difficult for their curing light to reach. Thanks to this, dentists can feel confident that when using Peak Universal Bond adhesive with the technique recommended by Ultradent Products, Inc., their restorations will stand the test of time.
Universal Application

Peak Universal Bond adhesive words with all bonding substrates.
Why have multiple bonding agents in the cupboard when dentists can keep just one bonding agent in stock? The Peak Universal Adhesive system features a universal bonding agent that is compatible with both self-etch and total-etch techniques. Its universal formulation works with all bonding substrates—including dentin, enamel, porcelain, metal, composite, and zirconia—and it provides superior bond strengths, making it the ideal choice for all bonding procedures. This also saves clinicians valuable time and money by eliminating the need for additional products.
Less Post-Op Sensitivity

SEM of microscopic spaces that Peak Universal Bond adhesive is able to reach.
Sensitivity caused by dental bonding is the most common concern clinicians express when choosing an adhesive. Most often, sensitivity is caused by microscopic voids or spaces in the tooth where the adhesive was not able to penetrate. Thus, when the patient chews or talks, the hydrolic movement within the tubules of the teeth, which creates sensitivity. Peak Universal Bond adhesive virtually eliminates post-op sensitivity thanks to the hydrophilic solvents in its chemistry, which Ultradent Products' Vice-President of Research and Development, Neil Jessop, says, "simply goes in and finds the most microscopic details in the tooth that you can imagine, while, after air thinning and polymerization, becomes hydrophobic. This helps ensure a very long-term bond that addresses that sensitivity, caused by so many other bonding agents on the market, well. It's truly the long-term, durable solution to great bond strengths and minimal patient sensitivity."
Proven/Tested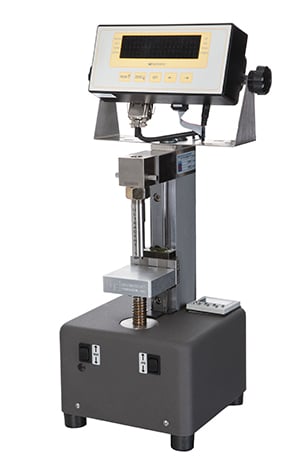 Ultradent Products' Ultratester, the ISO gold standard, uses a notched-edge shear bond strength testing method.
Ultradent Products put years of research into developing and testing the bond strengths created by Peak Universal Bond adhesive. Not only does Peak Universal Bond adhesive show significantly stronger bond strengths than its competitors, but Ultradent Products created, refined, and has taught their notched-edge testing method over a number of years, resulting in a reproducible technique that research organizations across the globe use today.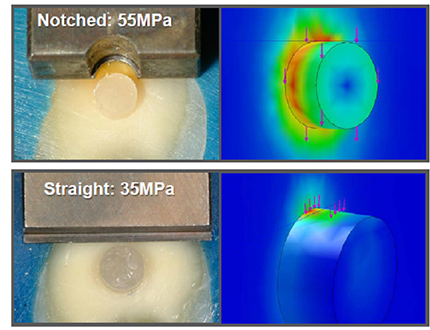 Comparison between using a straight contact versus the notched crosshead on the Ultratester to test shear bond strength.
In fact, after conducting a rigorous study involving over twenty independent organizations, the International Organization for Standardization (ISO) adopted Ultradent Products' shear bond strength testing method as the gold standard. Since then, Ultradent Products has sold their notched-edge shear bond strength testing device to numerous leading dental companies and competitors, who have adopted the standard as their own.
To learn more about Peak Universal Bond adhesive, please click here.
Price RB, McLeod M, Felix CM. Bond strengths of self-etching bonding systems to dentin and enamel. J Dent Res. 87(Spec Iss A):0825, 2008 (www.dentalresearch.org).

Clinician's Report, Volume 5, Issue 8, August 2012