A user report by Dr. Sebastijan Mormer

Contemporary designed, high quality equipment is important to us in our modern, young dental practice. Only the best is good enough for our patients. Along with our first-class treatment techniques, we rely on our technologically innovative equipment.
With this in mind, we were looking for a new curing light around two years ago. According to our dentists, the light had to be efficient, reliable, and fast. Our practice team placed emphasis on easy handling aspects and uncomplicated cleaning processes. Finally, the curing light should match our practice design in a visually appealing way.
From the large number of available devices, the VALO™ Grand curing light was particularly interesting. The lens of this LED curing light is 50% bigger than the lens of most of the other curing lights on the market. Therefore, a molar restoration can be completely cured within a few seconds in just one cycle. Nevertheless, the light head is small and compact, reaching all areas in the mouth easily.
Comparing the VALO Grand light to our previous curing light, we require far fewer illumination cycles per treatment and are thus able to save a significant amount of time. Three pre-set power settings increase the ease of use and reduce curing times: The Xtra Power mode, for example, takes only three seconds.
The handling of the VALO Grand light is likewise very easy. The power button is placed on the reverse of the lamp and can be conveniently reached with the thumb at any time – regardless of whether larger or smaller hands are using the light. The ladies in our practice especially appreciate the handiness, flexibility, and low weight of the device. Further advantages are the appealing, modern design and smooth surfaces of the VALO Grand light, which allow for an easy, quick cleaning and disinfection process.
We now have three VALO Grand LED curing lights in daily use in the practice. They are suitable for composite fillings, ceramic inlays, ceramic partial or full crowns, and all types of veneers. Moreover, they are ideal when curing a liquid rubber dam, for example during a professional tooth whitening treatment. Taking their frequent use into account, the lifetime of the batteries is remarkably long, and they rarely have to be re-charged.
As already mentioned, we are a young and dynamic practice with 15 team members. On more stressful days, our curing lights are occasionally handled less carefully or may even fall on to the floor. Thanks to the robust aluminium construction however, the VALO lights withstand these incidents without any issues. Our lights work perfectly and reliably every day and meet all our needs and requirements. Finally, everybody benefits from these innovative and well-designed devices: dentists, team members, and our patients.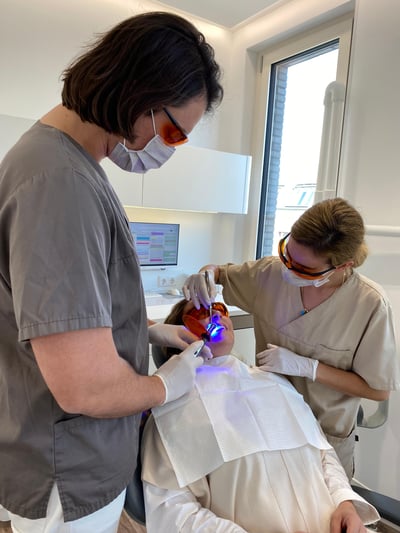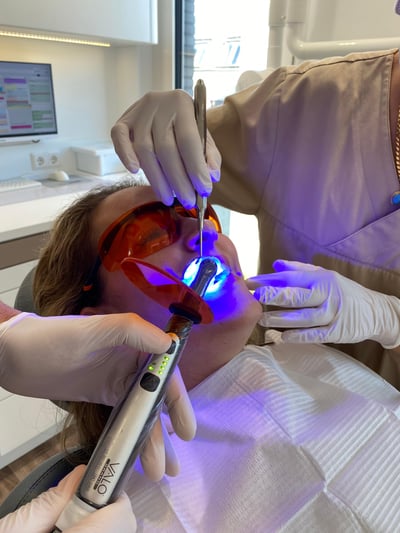 About the practice "WEISS 32"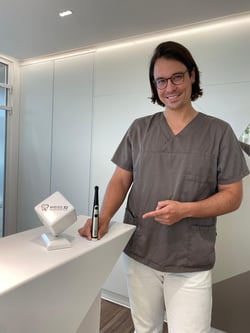 Founded in 2000 in Stuttgart under the name "Zahnarztkönige"

Sebastijan Mormer takes the practice over in 2020

Relocation within Stuttgart and name change to "Weiss32"

Seven treatment rooms

3 dentists & 12 team members

Focus: aesthetic dentistry, prosthetics, CEREC, oral surgery, implantology, periodontology, tooth preservation, aesthetic facial treatment