User Report by Luisa Roch (DH, B. Sc.)
Many offers on the Internet, particularly on the different social media channels, are dedicated to the topic of tooth whitening. Therefore, it is not surprising that the patients' attention is more and more drawn to the esthetics and appearance of their teeth. Some years ago, I offered tooth whitening treatments almost only exclusively and specifically targeted in our practice. Today, my patients proactively demand these treatments. Many patients aim for whiter teeth but are unsure, whether tooth whitening will cause any risks or side effects. Consequently, professional whitening offers have become indispensable in a modern dental practice.
Quite often, the patients ask their questions directly in our practice, instead of testing any product without any prior consultation or initial examination on their own.
At first, interested patients learn more about tooth whitening from the brochures in our waiting and treatment rooms and find out how simple, gentle, and reliable the treatments are. During the prophylaxis treatments I am happy to explain the detailed procedure, as well as the advantages.
Recently, a 34-year-old patient visited our practice for a check-up and tooth cleaning. His dental hygiene is generally very good. He has composite fillings in the posterior region and a crown on tooth 25. The patient used to be a heavy smoker for 14 years, consuming approximately 34 cigarettes per day. Furthermore, he drinks 2-3 cups of coffee daily. Although he decided to stop smoking around 2.5 years ago, his habits have led to an unpleasant yellow tooth color and significant discoloration. Therefore, he wanted his teeth to be whitened. His aim was to achieve a natural look, without artificially whitened effect.
After a thorough consultation, we chose a whitening treatment with the OpalescenceTM PF 16% gel (Ultradent Products) and individual whitening trays. The initial tooth colour determination resulted in an A3.5, including a lot of superficial discolorations (Fig. 1).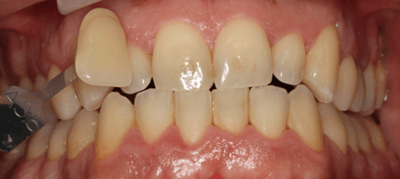 Image 1: Before tooth whitening – initial tooth color A3.5
To produce the trays, I decided to use intraoral scans. As this was the first time I applied this method, I was positively surprised by the outcome. The whitening trays seemed more precise and accurate than previously (Fig. 2). It is easier and quicker to work on the acrylic model, especially in case the sulcus must be deepened slightly for the block-out.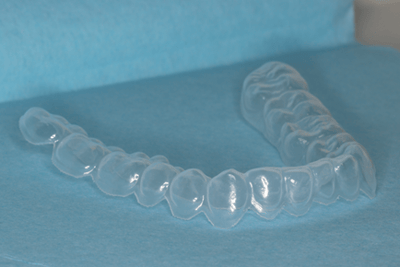 Image 2: Individual whitening tray
Prior to the tooth whitening, I performed a thorough prophylaxis treatment. I stained the teeth and instructed the patient regarding the oral hygiene protocol. Afterwards I cleaned the teeth, using air polishing and ultrasonic devices. Finally, the patient received a fluoride treatment.
Then I explained the handling of the whitening trays, as well as the use of the whitening gel. The trays can easily be filled with Opalescence PF gel (16% carbamide peroxide), directly from the convenient syringe. Due to its sticky, viscous formulation, the whitening gel ideally adapts to the teeth and does not run out of the trays, ensuring a safe whitening treatment.
After the initial instructions in our practice, the patient was able to continue the whitening treatment comfortably at home. It was recommended to wear the trays four times for two hours each - ideally over a period of five weeks. This may sound like a rather short treatment. Nevertheless, I prefer to start moderately and to extend the treatment protocol flexibly and individually per patient – in case it should be necessary.
Five weeks later, the extremely happy patient had his next appointment in our practice. His teeth showed a beautiful natural colour (Fig. 3), which could almost completely be determined as A2 (Fig. 4). Only in the upper jaw, around the area of teeth 3, the shade was more likely to be an A3 (Fig. 5).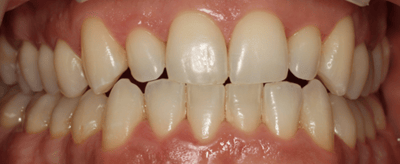 Image 3: After tooth whitening – overall impression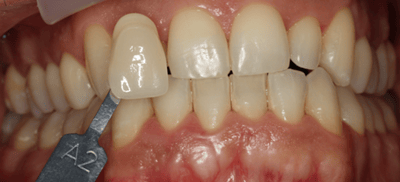 Image 4: After tooth whitening – general color A2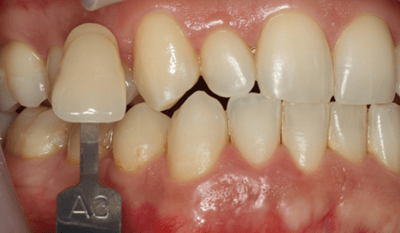 Image 5: After tooth whitening – color A3 (teeth 3/upper jaw)
The patient evaluated the treatment to be very pleasant and uncomplicated. He especially appreciated the ease of use of Opalescence PF whitening and the opportunity to wear the trays anywhere and at any time of day without being interfered or bothered by them. During the whitening protocol he was not faced with any discomfort. He only felt very slight sensitivities when exposed to cold after the last tray. However, this feeling stopped quickly and without the need of any further treatment.
The patient then started to use the Opalescence™ Whitening Toothpaste once a day to keep the result beautiful and radiant over a long period of time. The Opalescence Whitening Toothpaste is gentle and an ideal addition to the oral hygiene measurements at home.
Usually, we agree upon a follow-up appointment to check the tooth color after around six months.
Most patients are still very happy at this point, as Opalescence tooth whitening ensures an outstanding tooth color stability. Otherwise, a quick touch-up using two further Opalescence PF whitening syringes can be done to refresh the color.
I finished my dental hygiene studies around three years ago. It is important for me to provide high-quality treatments and profound instructions to my patients. My credo is: the proof of the pudding is in the eating. Whenever possible, I test the products with my own teeth first to get an impression of the efficiency and the results. The reason is simple: I am only willing to recommend treatment concepts to my patients, of which I am fully convinced personally.
When I started my studies, I got detailed insights into the world of the Opalescence tooth whitening systems. I liked the idea of initially explaining the whitening protocol chairside and afterwards offering the patients the liberty to continue the treatment independently at home. I decided to test Opalescence tooth whitening with my own teeth. This test and its results made me very enthusiastic, and I decided to continue using Opalescence tooth whitening. Even today, after more than seven years, I still rely on Opalescence tooth whitening, its gentle effects, and its easy handling. The extensive Opalescence product range offers a suitable solution for all needs and requirements. Additionally, my patients like the pleasant flavors, even if they are very sensitive.
Opalescence tooth whitening is effective in helping prevent shade relapse as compared to competitor tooth whitening products. Opalescence whitening gel is made up of at least 20% water which helps prevent dehydration. In case sensitivities should occur, they do not concern the teeth universally, but only selective areas. After a few days, they disappear automatically. If required, the UltraEZTM desensitizing gel (Ultradent Products) can be used for relief.
I particularly like the fact that Opalescence tooth whitening does not require a light source. According to my experience, UV lights, etc., frequently intensify the thermal stimulus and lead to sensitivities - without improving the whitening result.
Opalescence tooth whitening is very easy to use and suitable for almost all patients – unless they have too many visible restorations. If my patients just like to try whether a tooth whitening might be the appropriate treatment for them, I recommend Opalescence GoTM. Opalescence Go with 6% hydrogen peroxide is available in prefilled disposable trays and ready to use right out of the box. It impresses users and patients due to its fantastic results. It couldn't be easier.
Tooth whitening treatments with Opalescence are an essential part of our practice offer. They do not only contribute to lasting satisfaction and long-term patient loyalty, but also make an interesting economic contribution to the overall practice result.
As a dental hygienist, I am always pleased whenever I can make my patients happy in such an uncomplicated, gentle, and risk-free way. I can highly recommend users to test Opalescence tooth whitening with their own teeth and get convinced.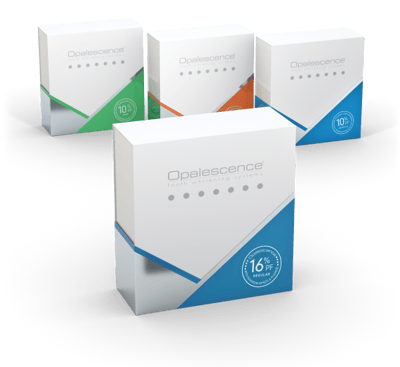 About the user:
Luisa Roch

2013-2015 Medic at the German Armed Forces

2015-2017 Shortened apprenticeship as dental assistant

2017-2019 Studies of dental hygiene and prevention management

(Bachelor of Science) in Cologne/Germany
Since 2019 Dental Hygienist with focus on

periodontology and tooth whitening
2021 until presumably summer 2023

Master Studies (business administration) Health and Social Management in Remagen/Germany