By ShaLyse Walker
When asked about his memories of Ultradent Products, Dr. Chris Chen remarks, "I have so many wonderful memories from the International Dental Show (IDS) in Cologne, Germany from each time I've visited the Ultradent Products booth that it's hard to pick out just one." Dr. Chen is a restorative esthetic dentist (and long-time Ultradent Products customer) based in Taipei, Taiwan. He has also attended IDS every other year since he's graduated from dental school.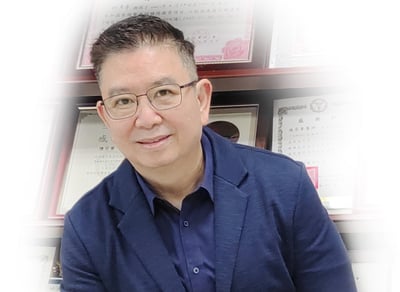 Dr. Chris Chen, a restorative/esthetic dentist working in Taiwan, and a loyal Ultradent Products customer
Then, his face lit up and he continued, "Actually, there is one thing that really stands out in my mind. It's something that's really striking about walking up to the Ultradent Products booth…It's the smiles on every one of Ultradent Products' people's faces. It's not that other companies don't smile, it's that the smiles of Ultradent Products' staff are markedly bright and white. It's something very unique and special."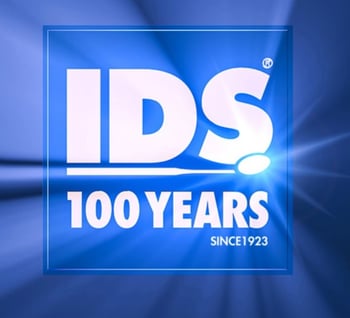 IDS will take place in Cologne, Germany from March 14-18, 2023
In fact, Dr. Chen remembers the very first Ultradent Product he ever tried and purchased many years ago at IDS—a product he still uses to this day. "It was Opalescence™ whitening, and it's still the best teeth whitening on the market. I assume that's why Ultradent Products' nickname is 'The Whitening Company,'" he laughs. "And Ultradent Products' people certainly fit the bill in terms of their smiles."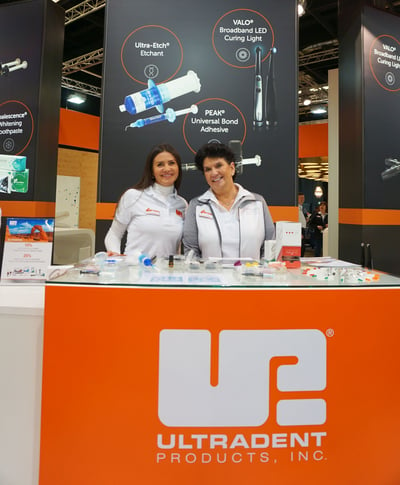 When you visit the Ultradent Products booth, you're sure to be welcomed by a warm, bright smile
However, every year, there is something exciting and new that Dr. Chen looks forward to seeing at the Ultradent Products IDS booth. "The last time I went to IDS, before the pandemic, I was introduced to and got to play with the Gemini™ laser and I fell in love. I bought one immediately." He adds, "This year, I'm really looking forward to getting to try the Gemini™ EVO laser and new VALO™ X curing light. I'm very into sci-fi movies and both the Gemini laser and the VALO light look like they're right out of a sci-fi film. The first time I saw both of them, I fell in love, and I know I'll love the new versions of both too."

Body of the New VALO X Curing Light
He goes on, "It's amazing that Ultradent Products are always evolving and innovating and so to finally get my hands on those products will definitely be a highlight of my trip next year."
In addition to the bright smiles he loves seeing at the Ultradent Products booth, Dr. Chen spends time there for other special reasons. "Visiting the Ultradent Products booth is like visiting old friends. I almost always see (Ultradent Products Founder and CEO Emeritus) Dr. Fischer and (Ultradent Products President and CEO) Dirk Jeffs there—and they always welcome up to me with a warm smile and big hugs. It's so wonderful to reconnect with people that have come to feel like family. There's a unique warmth that Ultradent Products' culture has that you don't find with other companies."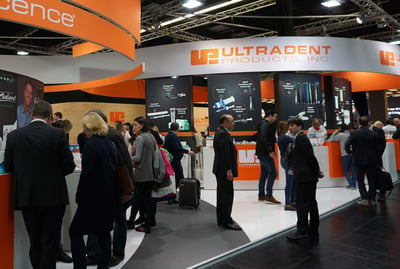 The Ultradent Products Booth at IDS 2019
Dr. Chen also expressed that he can depend on every one of Ultradent Products' employees to be professional. "I know that every time I visit the Ultradent Products booth at IDS in Cologne, I'm going to get the full attention of at least one employee that will take the time to show me all of the new products, demonstrate them, and help me to answer questions I have or to solve any issue I have with existing products. Every person at the booth is always so knowledgeable and professional that way, and I appreciate it."
Most of all though, after a long global pandemic, and more than getting his hands on the new Gemini EVO laser and VALO X curing light, Dr. Chris Chen looks forward to connecting with old friends at the Ultradent Products booth in March 2023. "I can't wait! After so much time away, I know this show is going to be extra special."
Click here to learn more about the IDS.