In the fields of preventive care, fluoride varnishes play an important role. Unfortunately, most patients literally do not appreciate their use. The reasons are obvious: a lot of varnishes leave an unpleasant texture on the teeth and a bad taste in the mouth. Additionally, they start peeling off the teeth during the day.
The popular EnamelastTM sodium fluoride varnish from Ultradent Products, however, has proven for many years, that preventive care treatments can be pleasant. Enamelast is a flavored, Xylitol sweetened, 5% sodium fluoride varnish with natural resins as a carrier. Its unique formula provides better adhesion, which enables an excellent fluoride release and absorption.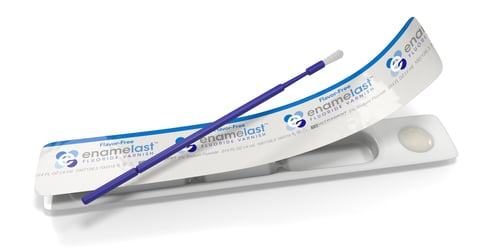 Thanks to its smooth, natural, and almost invisible consistency, the patients are happy to leave Enamelast on their teeth - for a maximum effect and a fresh, confident smile. The applicable delivery forms (syringes or unit doses) ensure the comfortable handling as well as the precise application.
Enamelast has been available in the convenient flavors Walterberry, Orange Cream, Cool Mint, Bubble Gum and Caramel, so far. From now on, the new and tasteless Flavor-Free formula is awaiting users and patients, providing for an even more enjoyable and subtle treatment procedure. The Flavor-Free version is equally sweetened with Xylitol, creating a positive treatment experience without leaving a lasting or disturbing taste in the mouth.
Enamelast Flavor-Free is ideally suited for patients who seek to avoid foreign flavors in their mouth or for those who want to ensure that their food will not be affected by a varnish taste after the fluoride treatment. Enamelast Flavor-Free can also be used for persons suffering from allergies. Your patients will love it!
For further information please visit ultradent.com/enamelast-flavor-free-eu