Case report by Lene Holm
Over the past decades, aesthetic dentistry has become a key indication in modern dentistry. Not only due to the increasing tendency of having a beautiful and attractive smile. Spotless teeth are meant to be a symbol of health and success, underlining each individual's self-confidence. According to the saying, that many ways lead to Rome, the aesthetic treatment concepts are as different as the specific oral situations and requirements. Therefore, the patients' needs, and objectives should be exactly determined in detail prior to the start of a specific treatment protocol.
When it comes to typical enamel defects including superficial discolorations, I have successfully been using the enamel micro-abrasion technique for more than 20 years. This well-established procedure proved to be very proficient for the treatment of enamel imperfections of less than 0.2 mm in depth. The outcome is usually compelling and my patients benefit from impeccable and more beautiful teeth.
Recently a 27-year-old female patient was seeking advice in our practice. Since she has her permanent dentition, she has had significant imperfections, related to enamel defects affecting both maxillary centrals (11 and 21; see Fig. 1). I certainly do not have to mention, that this was extremely disturbing for her and that the young lady has been suffering tremendously from these defects. After almost finished an orthodontic treatment, she was determined to be rid of her annoying yellow-brownish deficiencies. The patient opted for a quick treatment at an affordable price. Thus, our treatment of choice was the mechanical enamel micro-abrasion technique, using Opalustre™ (Ultradent Products). Opalustre is a professional chemical and mechanical abrasion slurry with 6.6 % hydrochloric acid for the removal of superficial white, brown or multi-colored enamel defects, including fluorosis discoloration up to .2 mm in depth.
Before I started the procedure, I took preoperative pictures determined the initial tooth color using the VITA shade guide. However, the enamel defects and discolorations were so prominant, that it was impossible to assign a single shade properly.
Due to the hydrochloric acid contained in Opalustre, I isolated the treatment area with a rubber dam and protected the patient's, staff's and my eyes with protective goggles. For additional protection of the soft tissue, I used OraSeal™ Caulking (Ultradent Products) to prevent tissue damage. A thin ribbon of OraSeal Caulking is placed beneath the rubber dam, along the gingival margin to prevent leakage. Alternatively, a light cured resin- barrier, such as OpalDam™ or OpalDam™ Green (Ultradent Products) can also be placed along the gingival margin prior to the treatment, in order to prevent tissue damage.
Then I applied a 1 mm thick layer of Opalustre abrasion paste on the affected areas of teeth 11 and 21. Thanks to its distinct purple color, Opalustre is really easy to place and to control. Afterwards I used a OpalCup™ (Ultradent Products) with a contra-angle at a slow rpm, applying medium to heavy pressure for 60 seconds at a time. A quick rinsing step showed me the success of the first round. I repeated this process two times. After this first treatment session, the patient's anterior teeth already showed a great result with far less yellow-brownish spots (see Fig. 2).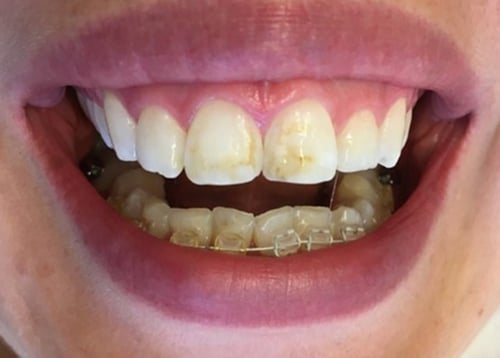 Fig. 1: Preoperative photo.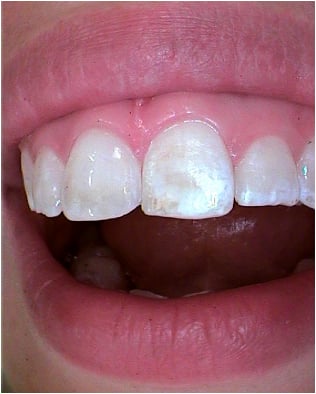 Fig. 2: After the first treatment.
After six days, we performed the second enamel micro-abrasion treatment in our practice and received a beautiful A1 tooth color on 11 and 21 (Fig. 3 + 4). Last but not least, I performed a finishing procedure with the OpalCups Finishing cups.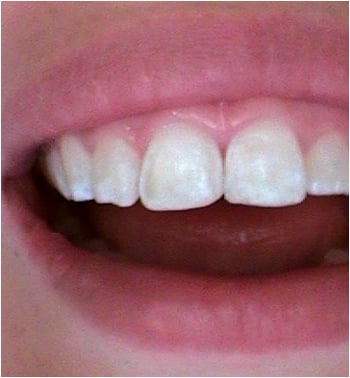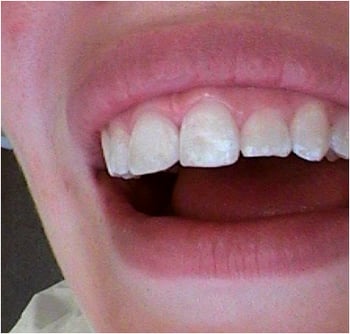 Fig. 3+4: Final photo after 2x30 min enamel micro-abrasion.
Ultimately, two short treatment procedures with each 30 minutes resulted in a significant improvement of the enamel and a really amazing result. My patient was more than happy with the outcome and is now able to smile positively and beautifully into the future.
Once again, the enamel micro-abrasion technique proved to be a very quick, easy and efficient method for the treatment of enamel decalcifications of less than 0.2 mm in depth and consequent substantial discoloration. Relying on Opalustre abrasion paste with its silicon carbide microparticles, I can always be sure that the mechanical abrasion will be smooth and gentle for the teeth. Plus with only removing less than 0.2 mm of enamel, this treatment concept does not bear any risks or side-effects for the patient.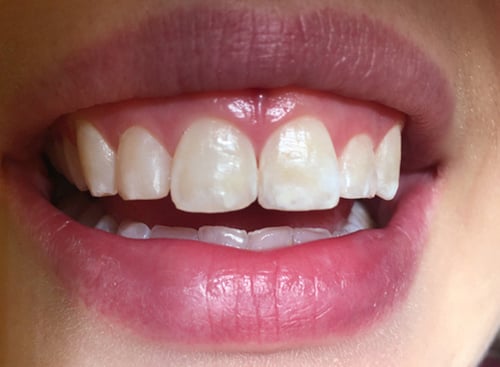 Fig. 5: Check-up and appearance 6 months after the treatment.
Learn more about Opalustre™ at www.ultradent.com/eu
For more details, watch the video:
About the author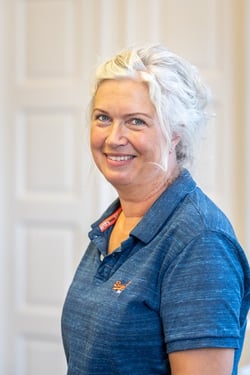 Lene Holm works as dental hygienist in the private practice Beringhus Dentists in Horsens and Vamdrup, Denmark. Additionally, she is a speaker for dental courses around esthetic treatments concepts, tooth whitening, enamel micro- abrasion techniques and professional tooth cleaning.
Lene Holm
Strandengen 82
DK-7130 Juelsminde
Phone: +45 23 61 24 01