By Daniel Lewis
COVID-19 has caused a global "tele" and digital tech wave, as industries proactively seek for opportunities to stay operational during the peak times of the pandemic. Workers telecommute, friends telesocialize, and doctors rely on telehealth to remotely connect with patients. Dentists find themselves uniquely limited in the teleworld, since patient care typically requires personal hands-on techniques. "If you need a filling, you still need see a dentist face to face," says Dr. Christine May, an Australian-based clinician and founder of the teledentistry marketplace ViDe. "We have not worked out how to do that via remote consult robotics yet. I am sure in ten years we might, but we are not there yet," she laughs, later adding "I really feel that teledentistry is going to disrupt the way we have been doing dental care to date."
Despite the inherent restrictions, teledentistry is getting more and more popular among clinicians, who are looking to remain available to their patients. Implementing virtual consults creates new opportunities to connect with patients—not only during a global pandemic, but also for those facing geographic/situational barriers to receiving care and those who become accustomed to the convenience of digital options.
"It is like self-serving at the checkout. You can either choose to see the check-out person, which can be good if you have got a really full trolley or you have special needs," May says. "But if you want to quickly get through and be more in control of it, then it can be faster for you to check out yourself."
The Next Generation of Dental Care
While connecting digitally may not be ideal in the traditional sense of dentistry, video calls allow for levels of interaction and care not available through phone calls. "A video consult gives you a face-to-face experience without having to be face-to-face, and there is so much power in that," says May. "… ask [patients] all the questions that you would in a face-to-face consult, and record that data in your practice management software later. Afterwards you can work out the best things to do and the next steps to look after in favour of the patient's best interests."
The virtual consult process can be streamlined by giving patients the ability to send information in advance. Having patients complete medical history forms and send selfies showing areas of concern prior to the consult will allow for an efficient, productive chat. "That means that the patient is already thinking about things because they've had their memory pushed. They have had the time to go and get their medications list or other details they need," says May. Knowing your patient's concerns in advance empowers a clinician to spend higher quality time with the patient than if they were going in blind, without any background.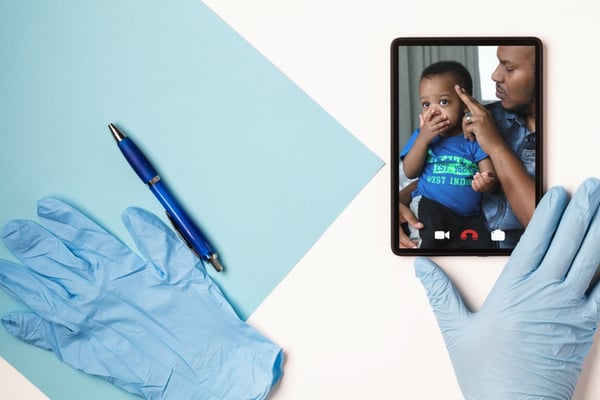 Incorporating teledentistry into your practice can be a vital channel in patient communication and care.
The Guideline For Your Patients On Their Way to Using Teledentistry
Many dental practices started already in March year to offer video consultancy and video appointments. An important point is not only to talk about this offering, but rather to provide a guideline for the realization to your patients. Otherwise you may risk, that less tech-addicted or senior people will be discouraged by not knowing how to proceed. And it is really easy to do: All the patients need is a Smartphone, a tablet or a computer with a camera and microphone. "The appointment can be booked via phone, e-mail or even on the practice's social channels. Afterwards the patient will a receive a link, the login details as well as further instructions", says Dr. Verena Freier from Bad Soden/Germany, who has been sticking successfully to this new approach. Make sure you act according to the GDPR (general data protection) regulations.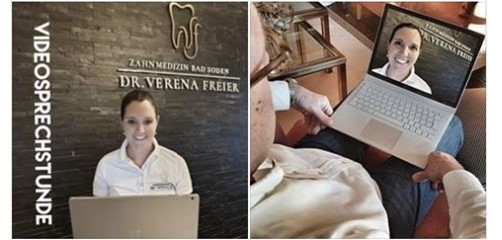 Dr. Verena Freier from Bad Soden, Germany, shows how teledentistry can be done. Already at an early stage, the corona crisis started, she announced on Facebook that she is offering video calls to her patient in cases where personal visits may not be necessary.
Teledentistry helps break down geographic boundaries and accessibility barriers not only during the COVID-19 pandemic, but also for those who may struggle to access care traditionally. "Depending on where you live, patients may have to travel a long way to receive any dental care," May says of the rural/remote populations. There are also ample benefits to implementing virtual consults for senior citizens. "A virtual consult eliminates a lot of that stress for people so they can get the information more instantaneously and then work out whether it is worth traveling a long way to the dentist."
Pivoting your practice to utilize teledentistry allows for an increase in patient interaction, both during the COVID-19 and after. Patients become accustomed to the ease of digital interactions and many prefer these type of consults—for convenience and also to overcome other roadblocks (like those in rural locations) for receiving care. Google search trends indicate a huge wave of recent interest in teledentistry and according to clinicians like Dr. May, that trend will continue long beyond the COVID-19 pandemic.