by Katja Mannteufel (Oemus Media)
First publication: ZWP Zahnarzt Wirtschaft Praxis [German monthly journal for dentists in practice] 6/22, p. 78– 79, OEMUS MEDIA AG, Leipzig
The treatment concept of the "Zahnärzte am Nordufer (ZANH)" neighborhood dental practice in the Berlin district of Wedding is shaped by preventive dentistry and natural esthetics. Professional whitening also plays a major role here. In line with the practice philosophy "Esthetics is not everything, but it is important," Dr. Peter Getz and his dentist colleague Karin Joschko therefore searched for professional whitening products that are right for the practice and the patients.
What's has been your overall experience with whitening in your practice?
Many patients who come to our practice want to have whiter teeth and address this head on. It is important for us to offer them a safe product that has the desired whitening effect. So we spent a long time on professional whitening and tested many different products from various manufacturers. Only Opalescence™ products from Ultradent are used today in our practice for teeth whitening.
Which Opalescence products do you use most often and why?
We mainly use Opalescence™ PF with 16% carbamide peroxide and Opalescence Go™ (6% H2O2) for cosmetic teeth whitening, and Opalescence™ Boost™ (40% H2O2) for medical indications. For each patient type and all the individual conditions they bring with them, we can offer the right kind of whitening with the Opalescence system. The cosmetic home whitening products—Opalescence PF 16% and Opalescence Go 6%—allow our patients to gently whiten their teeth. Opalescence PF 16% requires a custom-made splint into which the sticky, viscous gel is introduced—ideal for regular users. We usually recommend Opalescence Go 6% for patients who want to whiten their teeth for the first time. The pre-filled trays are easy to insert and super comfortable with a wearing time of 60 to 90 minutes per application.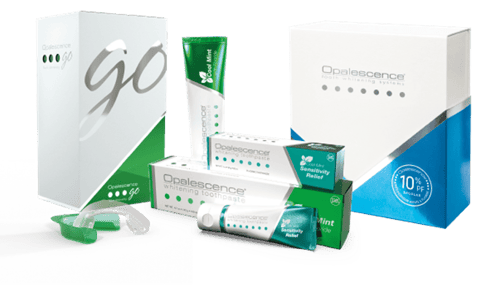 The practice only uses Ultradent Opalescence™ cosmetic and medical products for professional whitening.
How important is teeth whitening for your practice marketing? And to what extent do you use whitening in targeted patient communication?
Around 70 percent of our new patients say they are unhappy with their tooth shade. This patient group presents a huge economic potential that can never be exploited with crowns and veneers. It is important to create awareness of the real potential of an esthetic outcome and how to achieve it. Our overriding long-term goal is satisfied patients. We can use targeted marketing activities to draw their attention to our whitening treatments, or to our practice in the first place.
Which channels do you use to inform (potential) patients about teeth whitening and how do you involve the practice team in marketing?
We have two ways for effectively reaching patients: Through social media on their phones with Instagram and Facebook, and in person in the practice. So we work with posts, stories, flyers, and panel displays. But we also have a glass-fronted fridge in the reception area to showcase our whitening products. You have to generate awareness. Many relevant questions come up before entering the treatment room, but also during prophylaxis, at initial consultations and while discussing dental restorations. Anyone on the team can be "confronted" with these questions. That's why it's so important to keep all team members clued up with the relevant knowledge about whitening.
Is your practice being approached more often about the whitening offer as a result of the marketing activities?
A resounding yes! By using specific activities, our patients are not only aware that we offer professional teeth whitening, they even come to us with just this in mind. And that's not only good for them. This means that our practitioners don't have to "sell" anything and can devote their full attention to patients and their consultation.
More information and blog posts on whitening with Opalescence™:
https://infoneeu.ultradent.com/eu/opalescence-whitening-leader/clinician
- "Backed by Research: 7 Interesting Q&As About Teeth Whitening"
- "How To Whiten Teeth the Healthy Way: A guideline for your patients" by Tanna Bowen
About the practice
1989
Foundation of the original practice by the Joschko husband and wife team
2019
Development to become the "ZANH - Zahnärzte am Nordufer" dental practice

by Karin Joschko and Dr. Peter Getz with their team of ten today
About the practitioner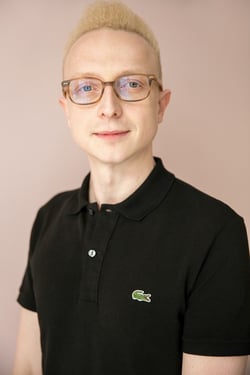 2006 – 2012
Studied dentistry at the Hannover Medical School as well as internships abroad (USA) and work in dental labs
2012
Resident in Hannover and Minden
2014
Employed dentist in Berlin
2019
Foundation of the "ZANH - Zahnärzte am Nordufer" dental practice
2020
PhD from the Hannover Medical School (Department of Trauma Surgery)
Continuing education and memberships:
Curriculum Ästhetische Zahnmedizin [German esthetic dentistry training academy] (Practice and Science Academy, APW, German Association of Esthetic Dentistry, DGÄZ)
Invisalign certification
German Society of Dental and Oral Medicine (DGZMK)
German Society of Esthetic Dentistry (DGÄZ)