Ultradent Products, a leading developer and manufacturer of high-tech dental materials, recently released its newest product, J-Temp™ Temporary Resin, a pre-mixed, light-cured temporary resin designed for multiple use cases and maximum ease of use—for dentists, by dentists.

Engineered for maximum usability—offering four solutions in just one product syringe, dentists can utilize J-Temp Temporary Resin for everything from bite ramps and temporary occlusal buildups, to build structure for isolation clamping, for temporary restorations, and for splinting between implant copings.

According to Dr. Jaleena Jessop, Vice President of Clinical Affairs at Ultradent Products, the development of J-Temp is based upon her daily experience in the dental practice and the wish for a material which meets all her requirements. "The more I use J-Temp for different procedures, the more I recognize the benefits of a product that covers a wide range of indications - versus five or six different materials that may even be expired upon the next use," she says.

J-Temp Temporary Resin features a consistency that's viscous enough that it won't run, but fluid enough to be self-leveling and easy enough to manipulate right in the operatory. Ultradent Products recommends using J-Temp Temporary Resin with Ultradent Products' Black Mini™ tip for simple, precise placement. When it comes to removal, the resin's light purple color allows for easy identification— making for a seamless experience for patient and dentist, start to finish.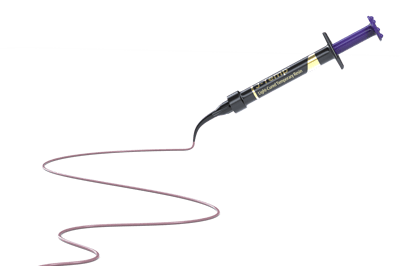 Click here to learn more about J-Temp Temporary Resin.

For more information about Ultradent Products visit ultradent.eu