The currently available preventive care methods for the maintenance of a good general oral health have been continuously improving. Nevertheless, lengthy (and time-consuming) treatments are almost unavoidable from time to time. At this point, users and practice teams are frequently faced with various challenges.
In the following interview, Dr. Getz from Berlin (Germany) tells us more about the use of a smart new auxiliary and his experiences with it: the Umbrella tongue, lip, and cheek retractor.
How long have you been using the Umbrella tongue, lip, and cheek retractor in your dental practice?
We have been using the Umbrella retractor since its market launch. Initially, we received a few items for test purposes. After having worked with them, we were really enthusiastic. Since that time, we have been using the Umbrella retractor regularly.
Which auxiliaries did you use before you switched to the Umbrella tongue, lip, and cheek retractor?
We usually worked with mirrors to hold cheeks and tongue back, plus cotton rolls to extend the working area and to control the saliva flow. Occasionally, we also used other products for this purpose in our practice. In the meantime, however, we concentrate solely on the use of the Umbrella retractor.
What was the reason for this change?
It was a mere coincidence that we performed the first treatment with the Umbrella retractor on a patient with a very strong gag reflex. Several fillings should be placed in the posterior region of the lower jaw. Typically, countless cotton rolls are needed for such a treatment to hold back cheeks and lips and to control the saliva flow as good as possible. It is a continuous challenge to create and maintain the largest possible working field. Mirrors and cotton rolls must be frequently repositioned or replaced. With every movement you do it is additionally mandatory to observe the gag reflex and to react accordingly. You can imagine that this is an extremely complex procedure.
The Umbrella retractor provided a tremendous support for us in this respect and the patient did not suffer from any gag reflex. The reason for the positive outcome is the flexibility of the Umbrella retractor's tongue holder. The tongue is guided rather than pushed away. Patients still have the feeling that they can move their tongue - despite of the retraction effect. This is very impressive for all involved parties - and for us as a practice team, it is a compelling reason to continue using this great auxiliary!
For which indications do you use the Umbrella retractor?
We use the Umbrella retractor for all longer treatments that require a large working field, a permanent and good access, as well as an ideal visibility. For example: tooth whitening, preventive care, preparations, fillings, and attachment bonding and removal. The Umbrella retractor enables us to work without cotton rolls, as the tongue is ideally kept back. In addition, we have a good overview of the entire mouth and can perform the suction immediately if necessary.
Which features of the Umbrella retractor do you like most, compared to the previous ways of working?
The Umbrella retractor is very easy to position, you really can't do anything wrong. We can see immediately if it is placed properly and do not have to check the fit from several angles first, as is necessary with other products. Moreover, the Umbrella retractor remains reliably in place and does not slip away - even if the patient moves the lips. The Umbrella retractor grants us an immediate open access and lasting stability during the entire treatment. Luckily, the view is not affected by the patients' swallowing or lip movements. The Umbrella retractor simply fits perfectly in every position.
In which way have your treatment processes been changed by the Umbrella retractor?
Finally, we can concentrate on the actual treatment and not on other annoying secondary activities such as keeping soft tissue away, or positioning or exchanging cotton rolls and mirrors. Thanks to the Umbrella retractor, our processes have become significantly more efficient and focused - both in terms of time and economy. Also, the help of an assistance is needed to a significantly lower extent.
If cotton rolls are additionally used in order to concentrate the saliva flow, treatments can even be done completely without any assistance. The assistance is meanwhile able to carry out other tasks, which in turn leads to monetary and time-saving advantages for the entire practice.
Finally, we have to invest less consumables, effort, and costs for the reprocessing of mirrors and other instruments. And last but not least, the Umbrella retractor saves our nerves.
Which advantages does your practice team see when using the Umbrella retractor?
Assistance tasks are often very static. For example, instruments or mirrors must be held in position for longer periods of time, leading to unpleasant tensions around the neck and shoulders. By the reduction of these tasks, the Umbrella retractor literally delivers relaxation for all our team members. In addition to all the other advantages already mentioned in this interview, the Umbrella retractor thus scores indirectly regarding the improvement of our working ergonomics and general well-being.
For which patient or age groups is the Umbrella retractor suitable in your opinion?
Basically, the Umbrella retractor is suitable for everyone. It is currently available in a medium size. According to our experience, this size fits most patients very well and has never been too small. However, a smaller size would be helpful for children or for people with a reduced ability to open the mouth.
How do your patients react on the Umbrella retractor?
Our patients have got entirely positive attitudes towards the Umbrella retractor. They are pleased that their mouth is held open in a comfortable way and that their tongues are rather guided than pushed away. Patients, who used to suffer from strong gag reflexes due to alternative methods, are particularly relieved, as gag reflexes have no longer been occurring in most cases. Only few of our sensitive patients initially considered the Umbrella retractor rather sceptically. After the first treatment, however, they were also completely convinced by the Umbrella retractor.
Have you already received a direct patient feedback on treatments with the Umbrella retractor? If so, would you briefly describe it to us?
Especially during prophylaxis and tooth whitening treatments, we have observed that competitor products can exert an uncomfortable pressure on the frenulum. Consequently, the patients constantly built up a slight lip tension, creating a counteractive effect. With the Umbrella retractor, however, this is not an issue at all: it sits comfortably in the mouth, does not squeeze, or pull, and provides an exceptional patient comfort throughout the treatment – especially in cases which take longer.
Which recommendations or tips would you like to give to users who have not yet used tools such as the Umbrella retractor?
This is answered in a nutshell: Try it out! Use the Umbrella retractor with a team member and the benefits will be obvious quite automatically. Those who are still sceptical should simply wear it in their mouth for a while and feel the comfort personally. the Umbrella retractor is convincing in every respect.
According to you: which three words describe the Umbrella tongue, lip, and cheek retractor best?
Comfortable. Simple. Time-saving.
More Information at:
https://infoneeu.ultradent.com/eu/umbrella
About the practice
1989 Foundation of the original practice by the dentists Mr. and Mrs. Joschko
About the user: Dr. Peter Getz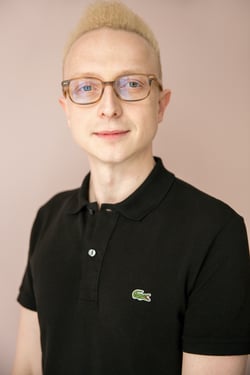 2006 – 2012 Dentistry studies at the

Medizinische Hochschule Hannover (Germany), internships abroad (USA) as well as working activities in dental labs

2012 Assistant dentist in Hannover and Minden (Germany)

2014 Employed dentist in Berlin (Germany)

2019 Foundation of the dental practice ZANH – Zahnärzte am Nordufer

2020 Doctorate at the Medizinische Hochschule Hannover (Clinic for trauma surgery)
Further education and memberships:
Curriculum of Aesthetic Dentistry (APW, DGÄZ)

Invisalign Certification

German Association of Dentistry, Oral and Maxillofacial Medicine (DGZMK)

German Association of Aesthetic Dentistry (DGÄZ)