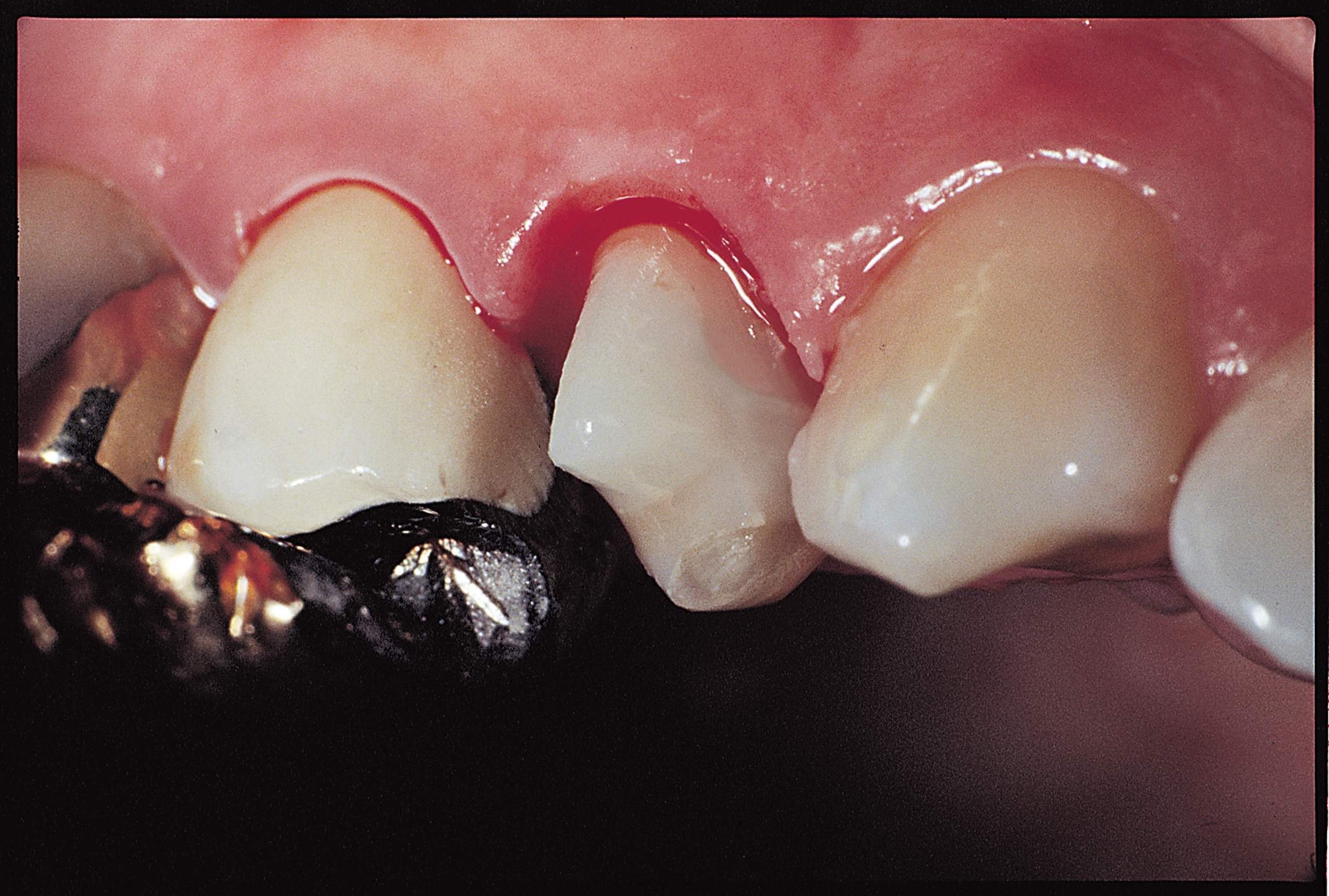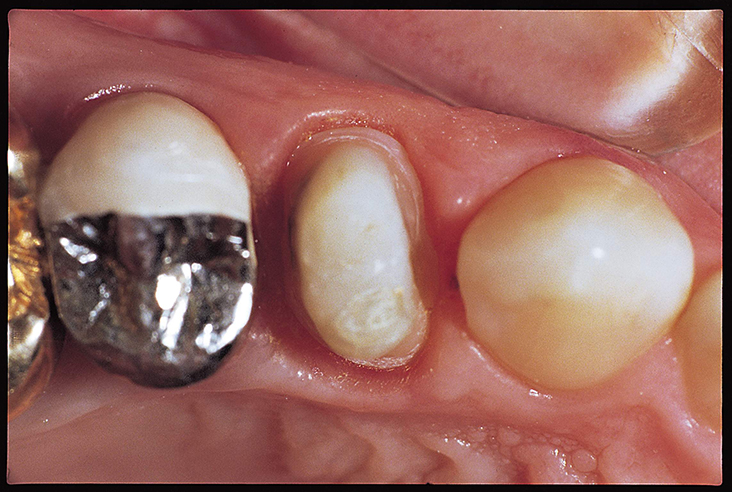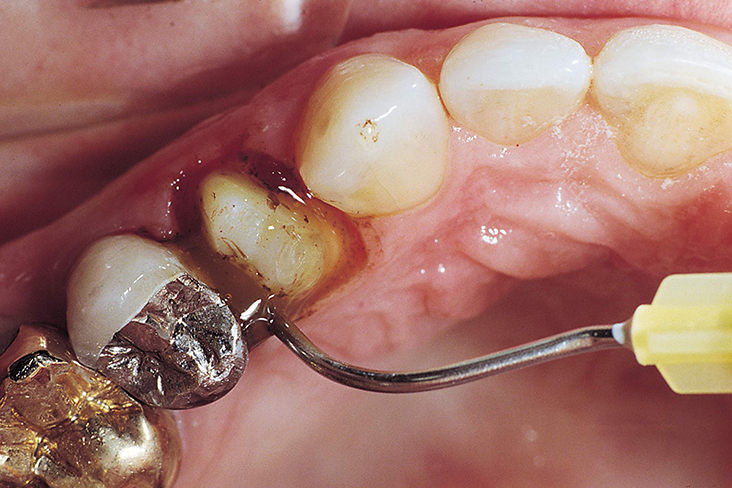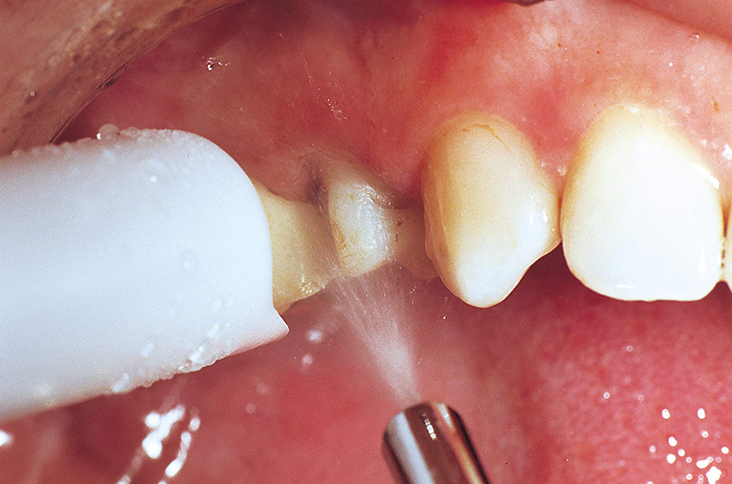 Prosthetics was my favorite topic during my time as a student at Loma Linda University in California, as well as later as a young dentist. I was fascinated by exact fitting crowns, bridges, and inlays made of gold alloy. But on the other hand, I was even more disappointed when I noticed that a crown margin turned out to be insufficient and did not match with the preparation margin.
I came to realize that the impression is the key factor – particularly the area around the sulcus region and consequently, the area of the full crown preparation margin. If this area cannot be reproduced precisely by the impression, it will be impossible for even the best dental technician to create an ideal restoration.
But what was the solution? When I was a student, the commonly used auxiliaries were simply twisted retraction cords – soaked in a less than ideal hemostatic solution. By the way, these are still used frequently even today but are usually not adequate to solve the problem.
Problem Solving in Two Steps
Using a step-by-step approach, I found the most successful solution. This is why I designed the "Tissue Management System", the first product line of my later company Ultradent Products, Inc. It works based on the following ideas and elements:
Hemostasis and retraction cannot be achieved in only one step. The bleeding must be controlled before the retraction process can be realized.
Products with a hemostatic effect must be brushed in intensively. A mere superficial action, for example by a soaked thread or a paste, is often insufficient.
During the preparation of the impression taking process, a retraction cord serves as reliable tool to achieve the retraction and expansion of the sulcus. With a knitted cord use a size which appears too large, as it compresses upon packing to the sulcus. Hemostatic clays will NOT displace/retract the tissues laterally.
I invented the Metal Dento-Infusor™ Tip, a metal cannula with a small brush end, which facilitates scrubbing of the hemostatic into the bleeding sulcus. The Dento-Infusor Tip was used in combination with Astringedent™ hemostatic solution, an iron sulphate solution which provides rapid blood coagulation.
The Dento-Infusor™ Tip: Filled with ViscoStat™, Astringedent™ X or ViscoStat™ Clear hemostatic. It serves to rub/infuse the sulcus with the fine brush end.
Capillary Closure for Effective Hemostasis
Meanwhile, Astringedent hemostatic was further developed into Viscostat™ hemostatic which is gel-based. Applied with the Dento-Infusor Tip, occlusive coagulum will form in the capillary ends – like corks in a bottleneck. This method is a very stable type of hemostasis. Astringedent™ X hemostatic was originally developed for problem bleeders (e.g. hemophiliacs and those on blood thinners). It is very rapid and effective. Some clinicians use this as their hemostatic of choice for all situations. All three of these hemostatics are iron sulfate based, hence the tissues will have a brownish color following use. This disappears within a few days.
However, it is important to observe three things:
When cleaning the sulcus, a certain degree of pressure must be applied. This may sound contradictive when talking about bleeding tissue. Nevertheless, these hemostatics will only penetrate intensively into the tissue that The goal is to infuse the hemostatic into the capillary orifices so to occlude them with microscopic coagulum plugs. This enables one to obtain profound and predictable hemostasis.
The Dento-Infusor Tip with these hemostatics should be applied in a humid environment. Do not air dry the sulcus prior to rubbing. Only spray and suck afterwards. Coagula, which are usually difficult to remove, may stick together in cases where the working field becomes too dry due to air drying or over suction.
After rubbing until hemostatis appears, a strong spray jet serves both for cleaning and as a test: it enables one to be assured that the hemostasis is entirely stable. If bleeding appears again, rub there again. Additionally, the jet spray removes the chemical agents from the sulcus. Interactions with impression material will consequently be excluded.
Ultrapak™ Knitted Cord Completes the Retraction Process
As soon as all bleeding is stopped (usually this does not take longer than one minute—if longer change to Astringedent X hemostatic), the retraction process, as well as the expansion of the sulcus, will be completed with a liquid absorbing, smooth retraction cord which puts pressure on the sulcus tissue. This can easily be done with Ultrapak retraction Cords which, unlike many other retraction cords, are not twisted or braided but knitted in a tubular way. Ultrapak cords are absorbent and smooth and can easily be used. Also, they remain reliably in the required position.

Enlarged view of Ultrapak™ cord: many small meshes interlock and form a tubular knit.
Ultrapak retraction cords are available in six different sizes, which are also suitable for double-cord techniques. The cords only require a dwell time of 1-3 minutes, as the retraction process and the opening of the sulcus already have begun during the previous rubbing step with the Dento-Infusor tip. Clinicians will be able to quickly and predictably obtain tissue management with these solutions and devices. They enable the preparation margins to be clean and visible. A predictable stable situation will occur, thanks to the two step procedure: firstly hemostasis, followed by the completion of the retraction process – bleedings have already been stopped when the cords are applied. Thus, the cords will not be subject to coagulation and can be easily removed. The blood-free sulcus allows a proper evaluation of the preparation quality. Therefore, a visual control can be done prior to impression taking.

The Ultrapak™ cords: tubular, absorbent, soft, and therefore easy to position. Thanks to CleanCut cap and the length scale, they can be easily cut off without scissors.
Aluminium Chloride can Work More Effectively
In the meantime, my system was successfully extended. Thanks to innovative products and techniques, a further minimal-invasive approach can be undertaken today. My long-time love for prosthetics has shifted more and more to the adhesive composite technique, which avoids the insertion of many crowns. However, a proper bonding process can only be achieved without the interference of blood and sulcus fluid. Again the Tissue Management System has proven to be helpful. The use of ViscoStat™ Clear hemostatic, a clear aluminium chloride gel, is beneficial in these cases as often only minor bleedings must be controlled but the sulcus fluid is paramount. It does not coagulate but – thanks to the Dento-Infusor Tips – it works more predictably, so to swell the collagen and hence seal off the capillaries. Due to the rubbing process the active ingredient, which is well known from conventional retraction solutions, can work significantly more effectively. Albeit hemostasis does not occur as fast with this gel as with the iron sulfate solutions, it does not cause discoloration. Ultrapak retraction cords can then be directly packed into the humid sulcus.
Helpful step-by-step technique guides, which explain the procedure of the Tissue Management System more in detail, are available from Ultradent Products, Inc. for free.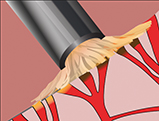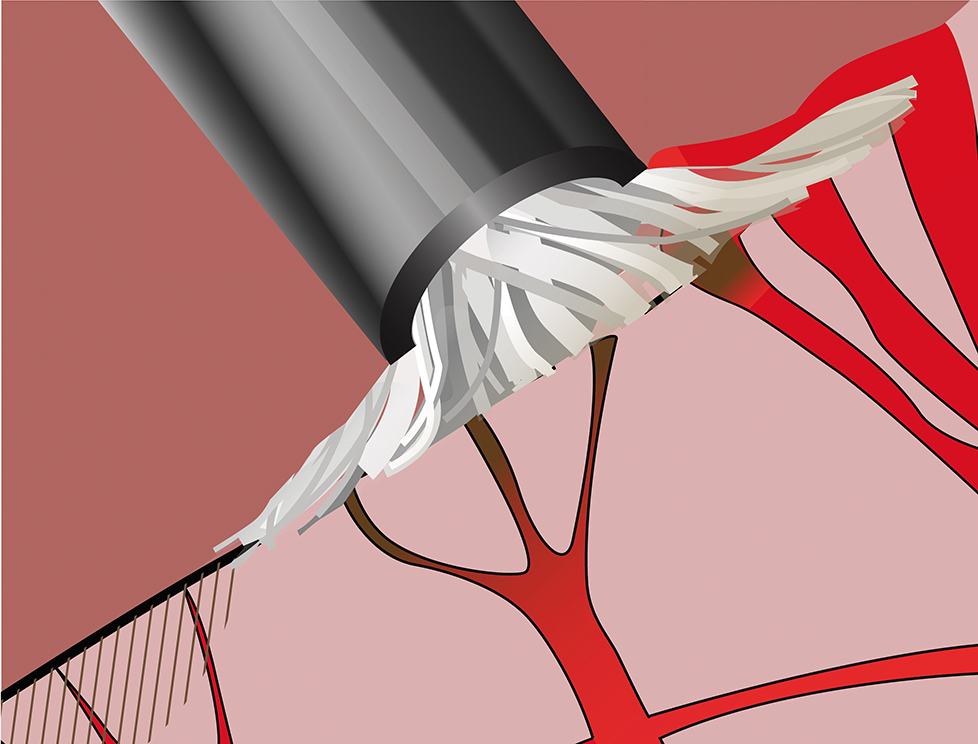 Schematic overview: hemostasis through the Tissue Management System with ViscoStat™ hemostatic. Left image: the Dento-Infusor™ Tip rubs the sulcus with ViscoStat or Astringedent™ X hemostatic and effects the diffusion into the bleeding capillaries, forming occlusive coagulum. Right image: The effect of ViscoStat™ Clear hemostatic is different. It does not coagulate but the surrounding collagen will swell slightly and so, will compress the capilla- ries.
Dental Technicians Appreciate the Tissue Management System
Dental technicians are convinced of the Tissue Management System, as this method really works and leads to excellent impressions. Many of them recommend the system to their dentist customers. Finally both parties will benefit: fewer repetitions of impression taking, considerable time savings, less problems, and improved crown margins.
As already mentioned, however, the area of adhesive dentistry with its multiple and complex indications becomes more and more important.
Although it's over 30 years old, the Tissue Management System is still very much a state-of-the-art treatment. High-quality treatment results can only be achieved if all conditions are well controlled and without the presence of interfering bleedings and sulcus fluid flows.
Best regards,

Dan Fischer
---
About Dr. Fischer
Dr. Dan Fischer is the founder and CEO of Ultradent Products, Inc., a leading dental manufacturer of high-tech dental materials, devices, and instruments with a 40-year history of innovation and quality. Its products are used worldwide by dentists, orthodontists, group practices, dental labs, government agencies, and universities. Ultradent Products' vision is to improve oral health globally. For more information visit ultradent.com/eu.
---